Emmanuel Depoorter
Emmanuel Depoorter a étudié les beaux-arts et le graphisme à Gand (Belgique). Il réalise principalement des dessins et films d'animation, qui mettent souvent en scène des personnages « pris » dans des activités absurdes et des métamorphoses physiques. Il est également enseignant à l'Ecole d'Art de Gand.
Emmanuel Depoorter studied fine arts in Ghent (Belgium). His work consists mainly of drawings and animations. They often show scenes in which figures are entrapped in absurd activities and physical metamorphosis. Emmanuel Depoorter is also teacher at the School of Arts in Ghent.
Emmanuel Depoorter estudió bellas artes y grafismo en Gante (Bélgica). Por lo esencial, realiza dibujos y películas de animación. Sus trabajos a menudo dirigen a personajes "agarrados" en actividades absurdas y metamorfosis físicas. Es también docente en la Escuela de Arte de Gante.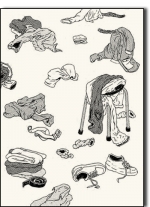 Emmanuel Depoorter, Maud Vande Veire